Overview
access_time
Duration
15 days / 14 nights
directions_bike
Distance
750 KM
Number of Cycling Days
12 Days
Total Cycling Distance
750 kilometers
Average Distance Per Day
70 km
Average Climbing Per Day
5 m
Instruction
💰Group Price:2000 US$/person.
🔑Tour Code: VBBSGHUI15A.
⛳️ Tour Start: Saigon - Tour End: Hue.
🚴 Group Size: Min: 2 - Max: 10 People.
🗓 Departure Date: Daily for Private & Set Date for Join Group.
🚙 Pick-Up Place: Update After Booking.
⏰ Pick-Up Time: 7h30 - 8h30am.
☎️ Urgent Booking: Please Call/WhatsApp (+84)869142415.
👨‍👩‍👦‍👦 Private Group:Info@vietnambybike.com - Hotline: (+84)888541515.
Bicycle is the best way to explore Vietnam and this Vietnam Bicycle Tour 15 days will also the best for join in our small group for cyclists who are solo traveler, limited budget to be saved for your extend holiday longer.
Jet-lag, climate and different timezone let you feel not comfortable holiday in Vietnam so that we highly recommend you should arrive in Saigon (Ho Chi Minh City) few days in advance, some top highlights you shouldn't miss those did not list in our itinerary such as Cycling Cu Chi Tunnel, Long Tan Battlefields, Old Quarter Saigon, China Town, Fito Museum, etc.. please do not hesitate to contact us to arrange those your experienced moment.
Full itinerary
Day 1: Saigon - TraVinh
Shuttle from Saigon to TanAn where we fit our bikes and start our exploration of the second biggest dragon fruits in Vietnam. The highlights of the biking routes are friendly farmers shooting "hello" to you, through a village known for "hu tieu" (vermicelli) in My Tho and the splendid Vinh Trang pagoda. On arrival the dock, take a private boat to the Mekong Riverside restaurant for lunch. Then, hop on a horse-cart to the Hương Dừa workshop in which you will learn more about how locals make the best use of coconut into a variety of products. Afterwards, we ride under a shady path to BaLai and onto BenTre city (if time permits). Overnight in Tra Vinh Khmer Town.
trending_down
Mostly Flat.
---
Day 2: TraVinh - CanTho
Enjoy your morning by participating some daily activities with the Vietnamese family, followed by breakfast being set up in natural surroundings. Bid farewell to the family members and continue our bike ride along the single track to the ferry taking us to SaDec – a lovely town which used to be famous for "L'amant" story between writer Maguerite Duras and landlord Huynh Thuy Le (in "The Lover" film). We extend our biking day at SaDec Flower Village – known as the biggest flower town in Mekong Delta, and learn some techniques how to take care of bonsai & flowers. In this cycling route, we might see some boat building yards. Shuttle to LongXuyen for lunch at the crocodile land. Afternoon, we cycle on the ricefields or along the branch of CanTho River (one of nine-dragon rivers in the Mekong delta) to PhongDien where we can take a short ride in the van to CanTho Center for overnight at hotel.
restaurant
Breakfast, Lunch, Dinner
trending_up
4m High Level.
---
Day 3: CanTho - Saigon.
Embark a motorized boat trip to CaiRang Floating Market, a bustling one on the river of CanTho. Explore numerous rural canals before getting back on our steel-horse from DongThanh all the way to TamBinh. Your lunch will be served at one of the most hospitable farmer's home where you can have a quick shower before a 3-hour ride in van to bring you back to Saigon around 5pm.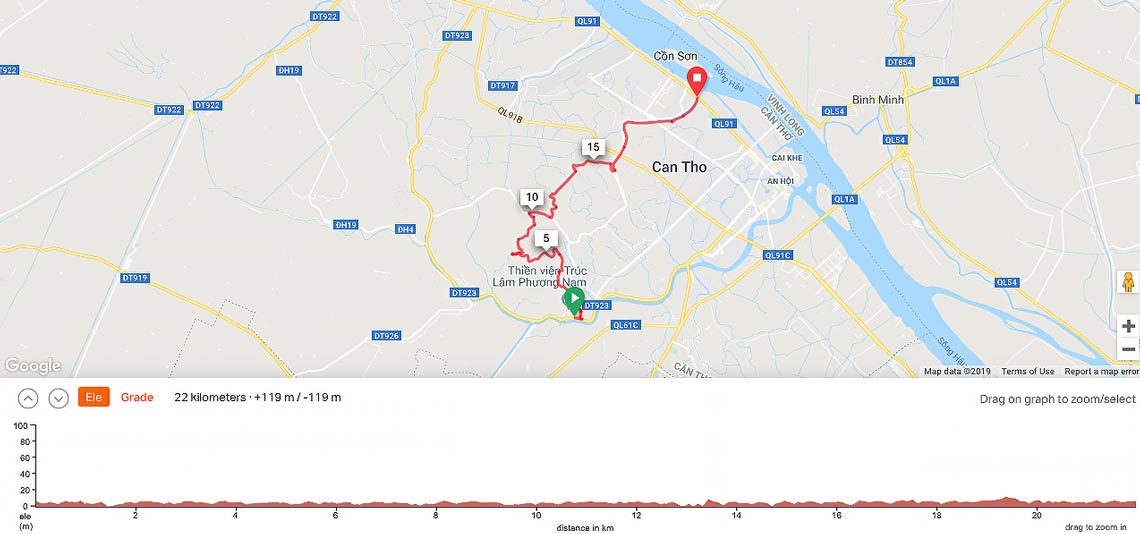 restaurant
Breakfast, Lunch
---
Day 4: Saigon Free & Easy.
Enjoying the famous far east of Saigon by walking yourself in the Old Quarter to be passed Operahouse, Saigon City Hall, Post Office, Notre Dame Cathedral, Reunification Palace, etc..
If you wish to take a Cu Chi Tunnel & Saigon City Tour,
restaurant
Breakfast, Lunch
---
Day 5: Saigon - DaLat
restaurant
Breakfast, Lunch, Dinner
---
Day 6: Da Lat Cycling.
hotel
Hoang Anh Dat Xanh.
restaurant
Breakfast, Lunch.
---
Day 7: DaLat - Nha Trang
restaurant
Breakfast, Lunch, Dinner
---
Day 8: Nha Trang Free & Easy.
directions_bike
No Cycling
---
Day 9: Nha Trang - Qui Nhon
restaurant
Breakfast, Lunch, Dinner
---
Day 10: Qui Nhon - Quang Ngai
restaurant
Breakfast, Lunch, Dinner
---
Day 11: Quang Ngai - Hoi An Ancient Town
hotel
Hoi An Travel Lodge
restaurant
Breakfast, Lunch, Dinner
---
Day 12: Hoi An Surroundings
hotel
Hoi An Travel Lodge
restaurant
Breakfast, Lunch
---
Day 13: Hoi An Free & Easy.
directions_bike
No Cycling.
hotel
Hoi An Travel Lodge
---
Day 14: Hoi An - Hue.
Wrapping your bike on the left side of Perfume River to start cycling along up to Vong Canh Hill with a short stop at the panorama and know about the fengshui of Nguyen Dynasty Era. Pedaling down to the incense village for a visiting incense home & King Tomb. Continuing cycling through the Tiger Fighting Arena Relic (Hổ Quyền) where elephants and tigers dueled to die and visit the bronze-casting village before riding back to hotel in the afternoon. Day 15: Hue Departure. Free & easy until transferring to the Hue Airport for Hanoi and Halong Bay Post Tour 4 more days.
restaurant
Breakfast, Lunch
---
Day 15: Hue Cycling.
trending_down
Mostly Flat.
---
Tour Details
Facts
Total Cycling Distance

750

km
Avg Distance/Day

70

km
Avg Climbing/Day

5

m
| | | |
| --- | --- | --- |
| location_on | Destinations | Vietnam |
| flag | Tour Meets | Saigon |
| flag | Tour Ends | Hue |
| flight_land | Fly In To | SGN Airport |
| flight_takeoff | Fly Out Of | HUI Airport |
| group | Group Size | 2-10 Riders |
| vertical_align_bottom | Minium Age | 14 |
What's Included/Excluded
check Comfortable A/C Van with helpful driver
check Accommodation
close Personal Expenses.
close Travel Insurance
Booking Info
If this is your favourite tour here's what you need to do to confirm your place with all departures are appear, you just select your best date you'd like to travel by clicking on "BOOK" link. Once we receipt your inquiry, one of our member will send you the full proposal with the traveler's information in details, if you request for your solo traveler, we will let you know the tour is "available" to "Guaranteed to Departure" or "Standby" to wait for more traveler joining to go ahead with the minimum 2 people are reached. If the trip will be reconfirmed guaranteed to departure, you are free to book your flight, Visa (as this advice for Vietnam Visa if you need) and make all other travel arrangements. If you are unsure any thing about the tour status, please email us at info@vietnambybike.com or call (+84)888541515. You also provide us the extra information such as passport numbers, height, weight. If your child is under 14 years old, please note their birthdate in the message at the end of the booking form. All of the problems will be assisted via above hotline and general email.
DEPOSIT
For less than 5 day tour to secure the service, we require deposit 100 USD/person & for Longer 5 days Tours to guarantee your place we require a 500 USD deposit, whichever is the greater. We also require that you take out travel insurance when you book your holiday. Besides covering you during your holiday it will also enable you to claim for any money that you have paid to us, including your deposit, should you have to cancel your trip.
BALANCE
Deposit must be paid 15 days before the departure date with fees for any bicycle rental(s), single supplement(s) and extra hotel nights. Our confirmation will include personal details you provided us (including your flight information), visa application advice, a packing suggestion list and a detailed tour itinerary. It will also include a checklist to ensure you get everything ready for your holiday.
CANCELLATION POLICY
On the rare occasions when we, VietnamByBike, must cancel a trip, all payments received to date will be 100% refunded, which constitutes full settlement. There will be absolutely no deductions. If you, the client, must cancel your reservation, your cancellation fee will be determined according to when you cancel. For full details, please read our cancellation policy.
LOYALTY RIDERS CLUB
For those who have been on several long tours with us we reward customer loyalty by offering repeat customers a special discount off the tour price (excludes single supplement and bike rental). If this is your fourth scheduled tour or more you will receive a 5% discount. If this is your eighth scheduled tour or more we will extend a 10% discount. The discount will be reflected in your online booking, but please contact us if any questions. Loyalty discounts can not be used in conjunction with any other offer. Note: Only tours of 5 days or more will be applicable for loyalty discount.
INTERNATIONAL FLIGHTS
International flights, to and from the start and finish points are not included in the tour price. Once your tour is Guaranteed to Depart you can book your flight. Please contact us for advice before arranging flights for the best arrival and departure times. We would only cancel a trip for an extreme circumstance, but in that case, where we cancel your trip, we cannot be liable for losses incurred relating to any flight booking you have made. Please claim any losses from your travel insurance that you acquired when you booked your holiday.